The Vikings and their Ships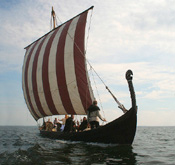 Ragnar Lothbrok is the feature character in the History Channel's series "The Vikings". Learn more about the real life "Scourge of England" and his series wife Lagertha on Danishnet.
Read about Viking foods, Viking longships, Viking Religion, and the Viking Longhouses. The Vikings were far more than simple raiders and plunderers. Did you know the Vikings were in North America 500 years before Columbus? Danishnet will help you understand their rich culture.