Hans Christian Andersen - Childhood and Education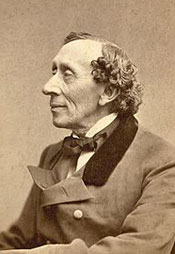 Hans Christian Andersen or simply H. C. Andersen as he is known in Denmark was born on 2 April 1805 in Odense, Denmark. Andersen was a poetry and fairy tale writer in the 19th century. He is best known for his fairy tales 'The Little Mermaid' (Den Lille Havfrue), 'The Ugly Duckling' (Den Grimme Ælling), The Steadfast Tin Soldier (Den Standhaftige Tinsoldat) and The Emperor's New Clothes (Kejserens Nye Klæder). There is a Little Mermaid Statue in Copenhagen Harbour (København's Havn), and it is the most visited site in all of Denmark.  
Hans Christian Andersen is nothing short of a literary legend, and his fairy tales are known throughout most of the world. His stories have been translated into more than 150 languages. In recent years several of his stories have been adapted to the movie screen by the likes of Disney (The Little Mermaid). It is no surprise then that Hans Christian Andersen is so highly glorified in Denmark. There are statues of some of his most famous fairy tale characters in many towns in Denmark. In actual fact you would be hard pressed to find a town in Denmark which did not have a school, a street or a square which was named after him. His hometown of Odense makes particular strives towards acknowledging their hometown hero.    
It is also not surprising that most Danes have a very good knowledge of H. C. Andersen and his stories. This is no doubt due to the fact that they learn a lot about him in school as well as in their homes. It is not uncommon for a Dane to meet a foreigner's lack of knowledge about Hans Christian Andersen with utter disgust. This is obviously due to the great pride that they can call H. C. Andersen their own.
BIOGRAPHY
Hans Christian Andersen came from humble beginnings, and he was born in a one bedroom house in one of the old poor quarters of Odense. His father was named Hans Andersen and his mother's name was Anne Marie Anders. Andersen only spent a short period in this small one bedroom home (1805-1807). The house is located on 'Hans Jensensstræde', and today it is the home of the H. C. Andersen Museum (H. C. Andersen Hus). The museum tells the story of his incredible life and it is well worth a visit.
In 1807 H. C. Andersen's family moved into what Andersen himself would describe as his childhood home. This home was also located in Odense in the same poor quarter as the other house on the street 'Munkemøllestræde'. Hans Christian Andersen and his family would go on to live here from 1807-1819. This tiny house was shared by 3 families (12 people). The house was obviously crowded beyond belief and there was a complete lack of privacy. It is believed that this complete lack of privacy would help to develop his unique imagination and love of stories. Many feel that since he was unable to have any real physical privacy that he was forced to escape into the privacy of his mind. Hans Christian Andersen himself may have inadvertently confirmed this belief for us. Andersen rarely spoke well of his childhood in Odense, however the one thing from his childhood that he always spoke fondly of was a shelf over his father's work bench which held many books and songs. 
At the age of 11 the already struggling Andersen family was struck with a harsh blow when Andersen's father passed away (26 April 1816). Hans Christian and his mother were on their own.
During the period after his father's death Hans Christian only went to school occasionally. He much preferred memorizing stories rather than learning to read. He would retell stories to anyone who would listen, and he would complement his story telling by imitating ballet dancers or acrobats while telling the story. Hans Christian's mother was not pleased with her son's love of story telling and his seeming lack of direction. She attempted to put an end to his fantasies by having him apprentice as a weaver. She would later send him to work at a tobacco factory and eventually to work with a tailor. This did not deter H. C. Andersen and he knew that these trades were not for him. His only interest lay in theatre, books and stories.
At the young age of 14 several months after his confirmation Hans Christian Andersen decided to go to Copenhagen (København) to seek his fortune. However, Andersen's first 3 years in Copenhagen would be met with extreme poverty, even more so than his grim days in Odense.
Hans Christian had a string of unsuccessful financial endeavours in his first 3 years in Copenhagen. He first began earning a very small wage in a boy's choir, yet this came to an end when his voice began to change. He then attempted to become a ballet dancer, yet his tall, gangly, poorly coordinated body meant that a career in ballet would be impossible. In desperation he even attempted to do manual labour, but he could not even do this very well. Yet to Hans Christian Andersen's credit it never occurred to him to go back to Odense on the island of Fyn and admit defeat.
Finally at the age of 17 Hans Christian's persistence paid off with a chance encounter with Jonas Collin. Collin was the director of the Royal Danish Theatre (De Kongelige Teater) and he had seen and read some of Andersen's works and he felt that Andersen showed promise. Collin approached King Frederik VI (Frederik 6.) and managed to convince the King to pay for part of Andersen's education.
H. C. Andersen would go on to be educated in the towns of Slagelse and Helsingor (Helsingør). Both towns are located near Copenhagen on the island of Zealand (Sjælland). Hans Christian did not excel as a student, he was alienated by his fellow students, and he was continually mocked by his teachers for his ambition to become a writer. Andersen has described his time in school as the bitterest time of his life. Today it is believed that he suffered from dyslexia which certainly would have contributed to his difficulties in school. 
Ultimately in 1827 while at the school in Helsingor the abuse towards Hans Christian led Jonas Collin to make the decision to remove him from the school. Collin arranged for Andersen to complete his studies in Copenhagen with a private teacher. In 1828 at the age of 23 Andersen completed the required exams for entrance into the prestigious University of Copenhagen (Københavns Universitet).
Hans Christian Andersen's Adult Life
LastUpdate: 2016-06-20 18:05:27