Arne Jacobsen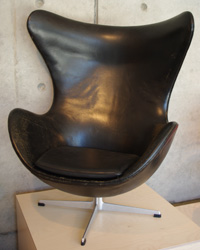 Arne Jacobsen (1902-1971) was a Danish architect and industrial designer who helped to introduce modernism in Denmark. He is often called, "The father of modern Danish design".  During Arne's career he mastered a wide range of areas within the profession. Whether the object in question was a high-rise hotel, a chair or a door handle, Arne Jacobsen used his talent and need for perfection to create many timeless masterpieces.
Arne Jacobsen was born in Copenhagen (København) in 1902. Prior to being admitted into the Royal Academy of Fine Arts in Copenhagen in 1924 he apprenticed as a bricklayer. Arne graduated from the academy in 1927. After graduation he started out designing individual homes, and in 1929 Arne Jacobsen and Flemming Lassen won joint recognition for "The House of the Future" project. The house the two designed was daring vision which even featured a helipad on the rooftop.
Arne Jacobsen was Jewish and during Denmark's World War 2 occupation by Germany he felt increasingly threatened. In 1943 Jacobsen decided to flee to Sweden which he did so by rowing across the sound in a small boat. While in Sweden he spent time designing textiles and wallpapers. Jacobsen returned to Denmark at the end of the war in 1945
Although Arne Jacobsen had been an active architect for many years it wasn't until he released his "Ant Chair" (photo on right) designed in 1952 and followed it up with his 3107 series of chairs (sometimes simply called, "The Number Seven Chair") that he truly earned national and international fame. The release of these chairs made him one of the most respected names in the industry. "The Seven Chair" went on to sell over 5 million pieces worldwide.
During his career Jacobsen was very productive both as an architect and as an industrial designer. He designed a huge number of family houses, summer cottages, apartment buildings, and public buildings.  One of his greatest achievements is probably the Royal Hotel in Copenhagen which was completed in 1960. He designed the Hotel in its entirety; from the exterior façade right through to the "Swan" and "Egg" chairs which grace the lobby. In producing the Swan and Egg chairs he was forced to use brand new production techniques, because he wished to keep the bent plywood seat and back as one piece. The Hotel is remarkable achievement and it is none other than the world's first designer hotel.
In 1964 Jacobsen earned international fame for his design of St. Catherine's College at Oxford University in 1964. Many British at the time felt that it was a great insult to hire this Dane who spoke very poor English to design this structure.
From 1956-1965 he was a professor of architecture at the Royal Academy of Fine Arts in Copenhagen.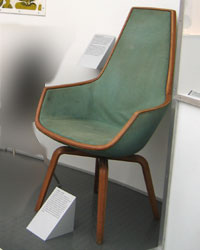 Giraffe Chair (1959)
While Jacobsen's architectural talent is evident there is no doubt that his accomplishments in architecture faded next to his design work. Jacobsen's industrial designs are truly remarkable. They have a simplistic functional quality which makes them timeless, and for that reason many of his designs are still in production 50 – 60 years after they were originally designed.   
Several of Arne Jacobsen's most well-known designs were used as props in Stanley Kubrick's iconic film 2001: A Space Odyssey. Arne's Ant chair, his Egg chair and of course his unmistakable AJ cutlery which have a specialized left and right handed spoon.
Between 1964 and 1967 Arne Jacobsen went about creating his "Cylinda Line" which is a stainless steel tableware line for the Stelton Company. During this period Arne produced 17 items for the Cylinda Line. The Cylinda Line went on to win numerous international design awards. These items are still being manufactured by the Stelton Company.
In Denmark during the mid-1990s there emerged a renewed interest in modern furniture and modern Danish design in Denmark. This movement spread to other countries who also renewed their interest in modernism and design. This triggered a growing demand for classic Arne Jacobsen furniture.  

Arne Jacobsen passed away in 1971 in Copenhagen and he is buried in the Ordrup Cemetery.
 
Here is a list of some of some of Arne Jacobsen more noteworthy architectural buildings:
1929 - Together with Flemming Lassen they designed "The Future House"
1932 – "Bellevue Beach Facilities" which were equipped with kiosks, changing rooms and lifeguard towers
1934 – "Bellavista Apartments" which is an apartment complex in Klampenborg (north of Copenhagen)
1935 – "Bellevue Theater and Restaurant" in Klampenborg
1935 – "The Stelling House" which is in "The Old Square" (Gammeltorv) in Copenhagen. Gammeltorv is one of the oldest squares in the city
1936 – "Skovshoved Service Station" which is located just outside of Copenhagen  
1942 – "Aarhus City Hall" which was designed with Erik Moller
1942 – Rundersdal City Hall (formerly Søllerød City Hall) which was designed with Flemming Lassen
1943 – Row houses in Gentofte on the road Ellebækvej 21-39
1951 – "Søholm l and 2" which are row houses in Klampenborg
1956 – "Rødovre Town Hall" in the town or Rødovre
1957 – "Munk Farm School" (Munkegårdsskolen)
1960 – "SAS Royal Hotel" in Copenhagen
1964 – "St Catherine's College" in Oxford, England
1964 – "Nyager School" in Rødovre.
1969 – "Rødovre Library" (Rødovre Bibliotek) in Rødovre
1971 – "Denmark's National Bank" (Danmarks Nationalbank) in Copenhagen
1977 – "The Royal Danish Embassy, London" which was erected posthumously

Some of Arne Jacobsen's most well-known furniture designs:
1952 – The three-legged "Ant Chair" ("Myren" in Danish). This chair was manufactured by Fritz Hansen and it is still in production
1955 – The four-legged 3107 Chair, also known as "The Number Seven Chair" ("Syveren" in Danish). This chair was manufactured by Fritz Hansen and it is still in production
1957 - AJ-Cutlery ("AJ-Bestik" in Danish) was manufactured by Georg Jensen and it is still in production
1958 - The world famous Egg and Swan chairs ("Ægget" og "Svanen" in Danish) which were specifically designed for the SAS Royal Hotel in Copenhagen
1959 – "The Drop Chair" ("Dråben" in Danish), and "The Pot Chair" ("Gryden" in Danish). Both were designed for Fritz Hansen 
1967 – "Cylinda Line" stainless steel tableware which is still in production by the Stelton company
1968 – The Vola fittings which are a line of shower and bathroom fixtures 
LastUpdate: 2019-06-28 16:23:56