Hans Wegner - A Prolific Designer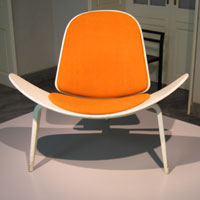 Hans Wegner (1914-2007) was a Danish architect and furniture designer. Wegner designed his first chair at the young age of 15. He was originally trained as a cabinetmaker, and at the age of 22 he was accepted into the Copenhagen school of Arts & Craft in Copenhagen (København). He studied at the Copenhagen school from 1936 until 1938.

After receiving his architectural degree in 1938, he worked as an assistant designer in Arne Jacobsen and Erik Møller's architectural studio before establishing his own design studio in 1943.

During this period Wegner was also employed as a teacher at "Danmarks Design School". Aside from furniture Wegner also designed silverware, wallpapers and lamps.

Hans Wegner was a true lover of natural materials, and had an extraordinary understanding of the design of furniture which was both beautiful and functional at the same time. Wegner was very instrumental in making Danish design very popular on an international scale.

During Hans Wegner's career he designed more than 500 different chairs alone, and over 1000 furniture designs in total. He is the most prolific Danish designer in history and will probably remain so.

In 1944 Wegner designed one of his most famous chairs, "The China Chair" (Kinastolen), and in 1947 he designed his famous "Peacock Chair" (Påfuglestolen). However, his big international breakthrough in sales terms came in 1949 when he designed "The Round Chair" (Den Runde Stol). The American Interiors Magazine featured the chair on the cover, and referred to it as "the world's most beautiful chair". From that point onwards the chair rose to superstardom, and the chair was used in the televised presidential debates between Nixon and Kennedy in 1960. Since then "The Round Chair" has simply been known as "The Chair". This took the chair to new levels of popularity.

The real genius in Hans Wegner's work is that he could design an individual piece of furniture which could stand on its own. There was never a need for an entire furniture line. It is noteworthy that Wegner's working relationship with the master cabinetmaker Johannes Hansen helped produce some of the most impressive furniture designs to come out of Denmark in the mid-20th century. Hansen completely accepted Wegner´s design ideas, and was only burdened with the problem of how to manufacture Wegner's designs. This harmonious relationship was a perfect combination between a great designer, and a great craftsman. Their working relationship carried on for many year, and they presented their works at the Cabinetmaker's Guild Exhibitions every year between 1941–1966.

Hans Wegner was always very active in the entire production process. After he finished designing a chair (or other piece) he would spend his time in the workshop with Johannes Hansen producing prototypes, and overseeing the workmanship. Wegner had a great understanding of the nature of wood. He was always well aware of the possibilities, and the limitations in working with wood. Together with the manufacturer (usually Johannes Hansen) they would strive to find the best solutions to bring about an exquisite piece of furniture. There is one certainty with Hans Wegner`s designs, and that is that they always stood out.  

In Wegner's home town Tønder in southern Jutland the old water tower has been turned into a Hans Wegner Museum. The Museum profiles some of his most impressive furniture designs.


LastUpdate: 2016-07-18 08:13:20