Kaare Klint - Danish Architect and Furniture Designer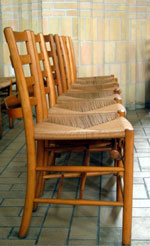 Grundtvigskirken (1936)
Kaare Klint (1888-1954) was a Danish architect and furniture designer. He was born in Frederiksberg which is part of the city of Copenhagen (København).  
Klint studied painting until 1903 when he became a student of his father, Peder Vilhelm Jensen, who designed the Grundtvig Church in Copehagen. Kaare also studied under architect Carl Petersen from whom he learned the Danish tradition of classical realism.
Kaare Klint's first major work was a joint effort with his mentor Carl Petersen. In 1914 the pair was hired to design furniture for the Faaborg Art Museum in Faaborg. At this time Klint designed the famous "Faaborg Chair" which is an elegant piece of furniture.
Kaare Klint was the primary force in the founding the furniture school at the Royal Academy of Fine Arts in Copenhagen in 1923. Klint became a professor of architecture at the Academy in 1924. As a professor taught furniture design which was based on his own personal thoughts and ideas. Klint was very much in favour of applying strict mathematical functionalism to design. As a professor he passed many of these ideas on to his students. In fact Klint taught many of Denmark's future famous designers such as Børge Mogensen, Hans Jørgen Wegner, Poul Kjærholm and Ole Wanscher; all of whom went onto apply these principals in their own work.
During World War 2 he began studying human proportions in order to create furniture that adapted to the human body's needs. This was part of an emerging functionalist belief that beauty lies in the strictly practical.
Kaare Klint also created a standard concept which came to dominate Scandinavian designers for many years to come; Klint's concept was that he felt there was no point in starting a design from scratch. He felt that it was important to maintain traditions in regards to furniture, and that furniture should be designed based on already existing pieces of furniture or other elements in the world. This of course required implementing his love of mathematics and the study of human proportions.
In 1927 Kaare designed "The Red Chair" whose construction and proportions came from a straight backed 18th century English chair. However, Kaare removed all of the unnecessary decorations including the beautiful Nigerien leather. The chair could not be called an imitation because of how radically it had changed from the original 18th century chair.
Three of Kaare Klint's most significant works include "The Safari Chair" which was designed in 1930, "The Deck Chair" in 1933 and "The Church Chair" in 1936.  "The Church Chair" started being used at "The Bethlehem Church" in Copenhagen. It was the first church in Denmark which began using chairs instead of benches. Kaare's cabinets and wardrobes made of Cuban mahogany are also noteworthy.
Through Kaare Klint's career his own furniture design and his teaching went onto influence an entire generation of Danish furniture designers. Kaare emphasized that good materials and perfect craftsmanship are vital in the design process. Klint's designs were always based on extensive research. He felt that every piece must fill its purpose, have proportions which correspond to the proportion of the human body, and use materials and craftsmanship of the highest quality.
Kaare Klint passed away in 1954 yet his life's work was a major influencing factor in the subsequent generation's development of the modern Scandinavian style.
LastUpdate: 2015-04-18 17:18:02