Poul Kjaerholm (1929-1980)
Poul Kjærholm was a Danish furniture designer, and he was born in Øster Vrå in Northern Jutland (Jylland) in 1929. He originally wanted to be a painter, but his father steered him toward a more practical career. So in 1948 he began an apprenticeship as a cabinetmaker in the town of Hjørring, yet he quickly left for Copenhagen (København) to study architecture and design at the Copenhagen School of Arts and Crafts in Copenhagen.
In 1952 Poul Kjærholm graduated from the Copenhagen School of Arts and Crafts in Copenhagen, yet he carried on teaching at the school until 1956. When he was a student at the school, Kjærholm had the good fortune to be taught by the famous Danish architect Jørgen Utzon (the architect who designed the world famous 'Sidney Opera House'). Utzon who happened to be a teacher at the school at the time was a major inspiration to Kjærholm.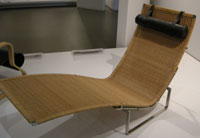 Hammock Chair
Kjærholm who was always active on the teaching side of the profession went on to lecturer at the Royal Danish Academy of Fine Arts starting in 1959, and to head of the Institute of Design in 1973. He went on to receive a professorship at the Royal Academy in 1976.
In 1955 the Danish producer E. Kold Christensen spotted Poul Kjærholm's great talent, and they began a professional partnership which would span twenty-five years, ending only with Kjaerholm's death in 1980.  During their lifelong collaboration they used the logo "KK". The two had a great working relationship primarily because they viewed the architect (Kjaerholm) and the producer (Christensen) as equal partners in the design process.
During the next 25 years Poul Kjærholm designed many individual pieces of furniture, and many lines of furniture. Kjærholm was an expert at using modern materials with high quality craftsmanship. Kjærholm was a consummate perfectionist throughout his entire career, and even the smallest detail meant everything to him.
While most of the other big Danish designers of the day chose wood as their primary material in their furniture designs, Poul chose steel. He would combine steel with other natural materials such as wood, leather or marble. Poul very outspoken about steel, and it was no secret that it was his favourite material. He felt that steel had enormous potential in furniture design, and he loved the way that light refracted on its surface. Kjærholm felt that steel was a material with the same artistic merits as wood and leather.
Kjærholm was fortunate enough to have Kaare Klint was one of his professors at the Royal Academy, and Klint's teaching and principals where always very evident in Kjærholm's designs.  There were several foreign architects and designers inspired Poul Kjærholm during his career. Most notably the Americans Charles and Ray Eames, and the German Mies van der Rohe. They were all very instrumental in inspiring Kjærholm to use some of the new industrial materials like steel.
The artist's PK22 chair propelled him into the spotlight in 1956, when it earned him a Lunning Award. It was renowned for its sophistication and the elegant curve of its metallic legs. A rattan seat made the chair a light, classy choice for indoor or outdoor seating. The PK22 was the beginning of a long and successful career in furniture design.

Poul Kjærholm's work is represented in numerous museums around the world, most notably in the permanent collections of the Museum of Modern Art in New York, and at the V&A Museum in London. He has won several awards including two Grand Prix at the Milan Triennale in 1957 and 1960, the Lunning Award in 1958, and the ID Award in 1973.
Poul Kjaerholm died in 1980. His works were grouped into a collection and produced and sold by Fritz Hansen starting in 1982. Kjaerholm's designs are featured in many permanent collections in museums in New York, London, Denmark, Norway, Sweden, and Germany.
LastUpdate: 2019-06-28 16:30:05