Verner Panton (1926-1998)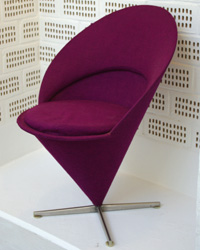 Verner Panton's Cone Chair (1960)
Verner Panton (1926-1998) was indisputably one of the most significant designers in Denmark during the 20th century. In fact he was one of the most trend-setting designers in all of Europe during the 1960's.
Throughout Panton's career he created highly innovative furniture using materials which were not very common at the time. He pioneered the use of moulded plastics. His design work was often characterized by brilliant colors and very futuristic designs.
Verner Panton was born in Copenhagen (København) in 1926. He attended a technical school in Odense and trained as an architectural engineer.  He later attended the Royal Danish Academy of Fine Arts in Copenhagen from where he graduated in 1951.
After graduating from the Academy Verner spent some time working in Arne Jacobsen's studio. It was said that he was simply the least proficient worker in Jacobsen's studio, as he was too busy with his own designs.
Always being an independent spirit Panton decided to set off and explore Europe in his Volkwagon van, and at the same time to hopefully find some investors who believed in him. Unfortunately Panton returned to Denmark without finding any investors. However, he did return full of design ideas, and in 1955 he opened his own design studio. It was shortly after his return that Panton landed his first major job. He was chosen to design the interior of the "Komigen" (Comeagain Inn); which was a hotel in Copenhagen. This job resulted in the creation of "the Cone Chair", which caused a sensation when it was unveiled.
While Verner Panton was educated as an architect his primary focus was always the designing furniture, lighting, and other interior decorations. He experimented with new unconventional shapes, and strong, bold colours. The materials he used were considered unusual at the time as were his production methods. Steel, plastic, and glass were some of his favourite materials. In 1955 he used tubular steel and woven plastic in his "Tivoli Chair" and his "Bachelor Chair". These materials were almost unheard of in the design world.
Panton was considered to be a little of a rogue by the other big Danish architects and designers of the day. Poul Henningsen described Panton as being, "stubborn and forever young". Panton's extraordinary imagination and enthusiasm would help him produce some remarkable designs. His use of high-tech materials, weird shapes and bold colours was a blatant break from the other famous Danish designers who held fast in the Kaare Klint school of thought. It is no wonder that he was considered to be a bit of a misfit.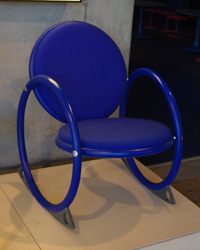 Dondolo Chair (1994)
Throughout the sixties Verner Panton continued his visionary approach to his furniture and lighting designs. Panton's most well-known piece is without doubt the "Panton Chair" which was released in 1960. It was made out of a single piece of moulded plastic, which was unheard of at the time. In fact it took the American company 'Herman Miller' many attempts before they puzzled out how to mass produce the chair, and it wasn't until 1968 that they finally succeeded. The chair was an instant success, and it made him internationally famous. The chair's sleek shape and bright colours helped it to became a sixties style icon. The chair is still being produced today however the production techniques have been updated to enhance the durability of the chair.
Other noteworthy chair designs by Verner Panton are his "Cone Chair (1956)" and his "Heart Chair (1959). Both drew much attention.
Verner Panton's designs were always an obvious target for criticism. Panton was fearless when it came to experimenting with new shapes, new colours and new materials; because of this many people viewed him as an eccentric. Panton was never bothered by the criticism he received. He was a true innovator who loved his worked and he wanted to share it with the world. While there were criticisms of Verner's work, the praise he received far outweighed the negative comments. Panton received many awards throughout his career.
Verner Panton passed away in 1998.
LastUpdate: 2016-09-07 11:53:53