Copenhagen (Vestvolden) Things to See and Do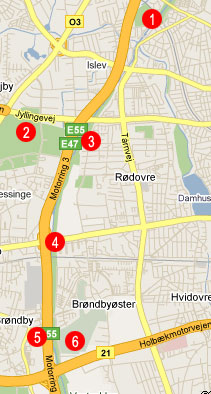 1. Kags Moor (Kagsmosen). The Kags Moor is a very good location for bird lovers. There are many different songbirds and grey geese. There are also innumerable pretty species of butterflies around the moor. You'll find an information board by the moor, and there is a walking path you can follow through the area.
2. The West Forest (Vestskoven). The trees in the Western Forest were planted in 1967 on an open field in really good soil. The trees were planted to create a forest in an area with very little trees, and to improve the nature in the area. The 67 meters high Hersted Hills (Herstedhøje) creates some variation in the generally flat landscape of the West Embankment. Hersted Hills is a manmade hill which was built with rubble from torn down houses in Copenhagen. On the farm Kroppedal you'll find an exhibition about the area and several brochures with suggested walking tours.
3. Ejby Bridge (Ejbybro). This is the only remaining bridge from the original bridge networks which use to run over the moat.
4. Kroghslyst (Kroghslyst). Kroghslyst is a beautiful building dating back to 1790. It is the only one of its kind in the area. You can see the building from the walking bridge which crosses the highway.
5. Brondbyvester Mill (Brøndbyvester Mølle). This beautifully well preserved windmill was built in 1888, and it was used to mill corn until 1950. In the green area next to the mill you'll find ancient formations of rocks.
6. Brondby Forest (Brøndbyskoven). This is manmade forest which was planted in 1953-1955. The forest is highly regarded for its excellent walking tours.
Vestvolden (Copenhagen) - Main Page
See Also:
Central Copenhagen (København)
Christianshavn (Copenhagen)
LastUpdate: 2019-06-28 21:19:45