Esbjerg - Things to See and Do (Part 2)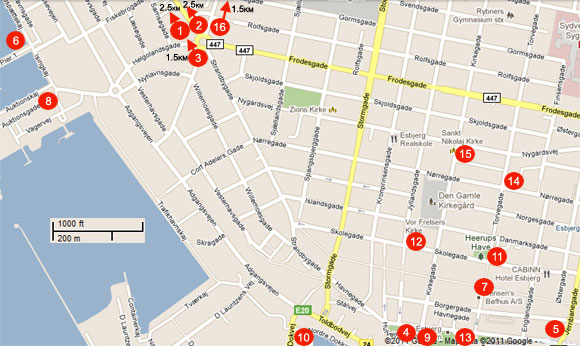 9. The Water Tower (Vandtårnet). Built in 1897 is an important landmark in Esbjerg. The tower holds an interesting exhibition about its history, and the history of other water towers all over Europe. It's open everyday during the summer. During off-season you can book an appointment on weekends only by phoning (+45) 75 12 78 11
10. Windmill Cruise from Esbjerg (MølleCruise fra Esbjerg). During the summertime you can take a unique boat trip out to Horns Reef (Horns Rev) which is a large offshore wind farm. The wind farm is located 15 km from shore and it has 80 enormous windmills with 110m wingspans. The tour takes you by the "Men at Sea" (Mennesket ved Havet) sculpture and by the island of Fano (Fanø). For more information call (+45) 33 42 30 00 or visit http://www.dfdsseaways.dk/cruise_med_din_partner/event_cruise/MolleCruise
11. City and Harbour Tour of Esbjerg (By- og havnerundfart i Esbjerg). From the tourist bureau you can book a number of boat and bus tours in and around Esbjerg. Telephone number: (+45) 75 12 55 99.
12. Church of Our Saviour (Vor Frelser Kirke). Located on the street 'Kirkegade', is the oldest church in Esbjerg. The church was built in 1887. The church underwent major renovations in 2001. Located on the same street is Saint Nikolaj Church (Skt. Nikolaj Kirke). This church was built in 1969, and was designed by the world famous Danish architect Johan Otto Von Spreckelsen (1929-1987). Spreckelsen is best remembered for designing The New Triumphal Arch in Paris, France.
13. Esbjerg Music House (Musikhuset i Esbjerg). The world-renowned architects Jørn Utzon and his son Jan Utzon designed this building in 1997. Jorn Utzon is the architect who design the world famous Sidney Opera House. The architecture of the Esbjerg Music House was inspired by the tall trees which stood there before the building was erected. There are regular musical and cultural performances at the Music House. Visit http://www.mhe.dk/ to see the upcoming events (Danish Website).
14. Museum of Esbjerg/Western Jutland's Museum of Amber (Esbjerg Museum/Vestjyllands Ravmuseum). This decent museum tells the short but hectic story about the city of Esbjerg. It also has the most beautiful collection of Amber in Denmark. The Museum also holds an ancient history exhibition, and is often the home of many impressive temporary exhibits.
15. The Old Power Plant (Det gamle Elværk). The Old Power Plant was built in 1907. Rather than tearing the building down the decision was made to renovate the building. When the renovations were completed in 1998 the building became the home of the Esbjerg Music Conservatory. The old turbine hall has been transformed into a very unique concert hall.
16. Vognbol Park (Vognsbøl Park). Vognbol Park is a pleasant forest and park area with many lawns and pretty, small lakes. The park is a pleasant area to go for a walk or simply relax. For bird lovers there are many different species of birds in this park. You might get lucky and see a fish-hawk fishing down by the lakes. At the other end of the forest, you'll find an animal garden with roe deer and a variety of other deer breeds.

Esbjerg - Things to See and Do (Part 1)
Esbjerg - Main Page
LastUpdate: 2019-06-28 21:18:21