Jelling Runic Stones
Jelling was an official royal seat of Government during the 10th Century and accordingly a political centre of power in Denmark.
The Jelling stones are massive carved runestones from the 10th century, found at the town of Jelling in Denmark. The older of the two Jelling stones was raised by King Gorm the Old in memory of his wife Thyra. King Gorm was the first king of all of Denmark. The runic inscriptions on these stones are considered the most well known in Denmark.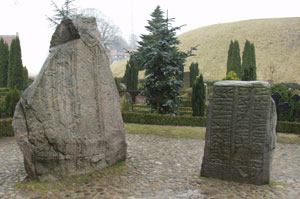 The larger of the two stones was raised by King Gorm's son, Harald Bluetooth in memory of his parents, celebrating his conquest of Denmark and Norway, and his conversion of the Danes to Christianity.
The stones lie in a Jelling churchyard between two large mounds. They represent the transitional period between the indigenous Norse paganism and the process of Christianization in Denmark. The stones are strongly identified with the creation of Denmark as a nation state.
The larger of the two runestones reads: "King Haraldr ordered this monument made in memory of Gorm, his father, and in memory of Thyrvé, his mother; that Harald who won for himself all of Denmark and Norway and made the Danes Christian." It is sometimes called "the birth cerificate of Denmark."
The smaller stone is older and reads King Gormr made this monument in memory of Thyrvé, his wife, Denmark's adornment."
Both stones bear some of the earliest records of the name "DenmarK".
The Rune Stones are listed as a UNESCO World Heritage Site.
Learn more about Viking Runes.
LastUpdate: 2018-07-24 20:26:53