Kronborg Castle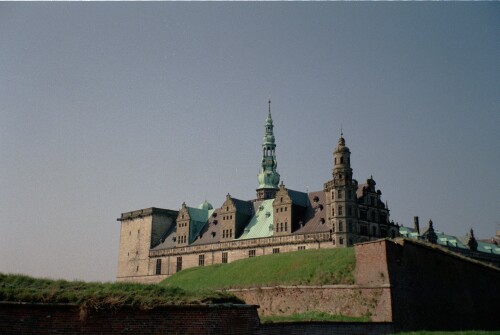 Kronborg Castle is situated on the sea in Helsingor or Elsinore (Helsingør) and in clear weather you can get a clear view of Sweden across the sound. The castle is one of northern Europe's most important Renaissance castles and is on the UNESCO World Heritage list.
The Castle was built between 1574- 85 during the reign of King Frederik II to keep and eye on and collect taxes from ships sailing through the narrow sound between Denmark and Sweden. This so-called Øresund-tax was for a long period an important income for Denmark.
The Castle burned down in 1629 but was rebuilt again in 1638. Kronborg contains the 62m-long Knight's Hall - one of the longest halls in Europe - and the famous statue of Holger Danske. Legend says that if Denmark is ever threatened, the stone figure will turn into flesh and blood and rise in defence of the kingdom.
Shakespeare's Hamlet is set in Kronborg Castle.
LastUpdate: 2019-06-28 21:13:32