Tivoli Gardens - Copenhagen (København)
Tivoli Gardens is an internationally renowned amusement park located in the heart of downtown Copenhagen (København), and any trip to Copenhagen deserves a visit to Tivoli (if it is open).  Tivoli is only a stones throw away from Copenhagen's Central Train Station (København Hovedbanegården) which makes it very accessible.  Also nearby is the very pleasant Stroget (Strøget), which is a very nice walking street, and it is the longest pedestrian street in Europe.   
Tivoli Gardens is the most visited attraction in Denmark, and it is the 3rd most visited amusement park in Europe.  The park was built by Georg Carstensen and opened August 15, 1843.  This makes Tivoli the second oldest amusement park in the world behind another Danish amusement park called Dyrehavsbakken (Deer Park Hill).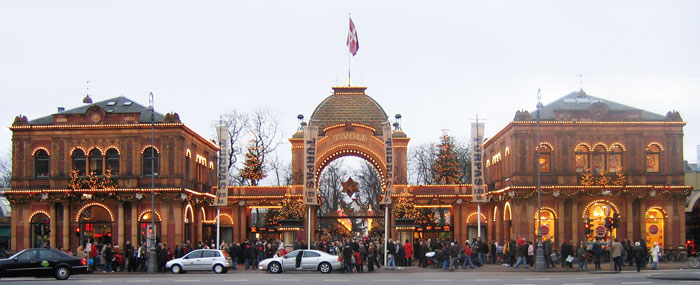 This amusement park is not just for kids.  Tivoli Gardens truly has something for everyone.  There are over 30 restaurants, 25 rides, 400 000 flowers and many different arts and crafts. Tivoli has over 150 concerts a year from international ballet troops and symphony orchestras to well known international rock and roll bands.  Twice a week the park puts on an impressive fireworks display.  In the evenings the park turns in to a wonderful place to go and have a pleasant dining experience, a place to have a couple drinks with friends or simply a place to go for a romantic walk.     
Tivoli's biggest drawback is that it is not open year round.  Up until 1994 Tivoli was only open in the summer time.  However, in 1994 Tivoli began opening in mid-November until the end of December with a Christmas theme.  With over 115000 lights illuminating the park, taking a stroll in the evening through Tivoli around Christmas is a truly wonderful experience.  Any tourist who happens to be in Copenhagen during Tivoli's Christmas theme should absolutely find some time to go and see the park, especially in the evening. 
In 2006 the park started opening for 10 days right around Halloween time.  Not that Danes generally celebrate Halloween or even know what it is, but more to capitalize on the Danish children who happen to have their fall school break right around Halloween time.
In 2009 Tivoli Gardens became the first park in the world to operate entirely on renewable wind energy.  Tivoli has its own windmill which feeds the park directly.     
Interesting History
Unfortunately not much of the original park remains (one notable exception is a wooden rollercoaster (Rutschebanen) which was built in 1914 making it one of the oldest in the world).  Denmark was occupied by Germany throughout much of World War II, and during this occupation much of Tivoli burned down after it was bombed on June 25th 1944.  There is still some speculation as to who actually bombed Tivoli.  At first it appeared as though it was done by a Danish resistance group.  However, many believe that it was actually a German Schalburg-group (a pro-German group) called 'the Peter group' which bombed Tivoli as revenge for a bombing of a Danish company which produced weapons for the German war effort.
Here are some rides in Tivoli and the year they were introduced to the park.
Dyrekarussellen (1901)
Rutschebanen (1914)
Radiobilerne (1926)
Dragebådene (1935)
Galejen (1937)
Ballongyngen (1943)
Skærsilden (1952)
Veteranbilerne (1959)
Linie 8 (1969)
Karavanen (1973)
Odinexpressen (1985)
Snurretoppen (1988)
Den lille Flyver (1990)
Den flyvende Kuffert (1993)
Dragen (1995)
Det gyldne tårn (1999)
Tempeltårnet (2000)
Pandaen (2000)
Monsunen (2001)
Minen (2003)
Dæmonen (2004)
Himmelskibet (2006)
Nautilus (2007)
Vertigo (2009)
Det store ur (2009)
Vesterbrogade 3
DK-1630 København V.

Telephone (+45) 3315 1001
Fax (+45) 3375 0381
LastUpdate: 2015-12-05 14:14:37