Tourist Attraction - Deer Garden (Dyrehave) - Copenhagen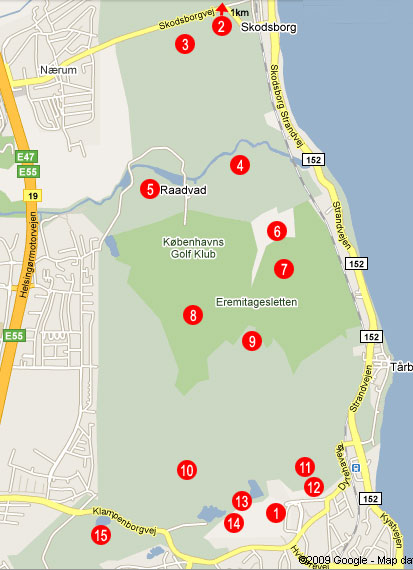 1. Deer Park Hill (Dyrehavsbakken). The Dyrehavsbakken is a 400 years old amusement park, and is the world's oldest operating amusement park. It's the second most popular attraction in Denmark, after the famous Tivoli Gardens amusement park.
2. Bollemosen (Bøllemosen). Bøllemosen is a peaceful high moor surrounded by a birch tree forest. Bøllemosen has a wide variety of rare plants and berries. Centuries ago hese plants and berries use to be common place throughout Denmark, yet today they are very rare. Visitors are welcome to fish in the lake, provided they have a valid Danish fishing licence. Everyone between the ages of 18-65 needs a fishing licence to fish in Denmark. You can buy a fishing licence at any post office or tourist office in Denmark. A Danish Fishing Licence costs 35 Kr. for one day, 100 Kr. for a week, and 140 Kr. for one year.
3. Jægersborg Hegn (Jægersborg Hegn). Jægersborg Hegn while not a true bird sanctuary is the home a wide variety of birds. The terrain is very hilly, and the area is one of the more peaceful and scenic sections of the Jægersborg Hegn og Dyrehave park. The highest point is 39m above sea level and there are throughout the forest.
4. The Mill Stream (Mølleåen). The Mill Stream (Mølleåen) is a very pretty stream which runs west to east and essentially cuts the Jægersborg Hegn og Dyrehave Park in two. The stream is approximately 30km long and all the way down the stream there is untouched forest. In the month of May you can hear the many nightingales which live by the stream.
5. The Stampen Forest (Stampenskoven). The Stampen Forest (Stampenskoven) is a 300 years old forest which is mainly made up of ancient twisting oak trees, and a few beech trees. The forest has a wonderful appeal to any nature lover.
6. The Hawthorn Plain (Hvidtjørnesletten). The Hawthorn Plains (Hvidtjørnesletten) are a grassy plain which is almost 200 years old. At the beginning of June the grassy fields are full of life as the huge variety of wild flowers bloom.
7. Eremitagen (Eremitagen). The Eremitagen is the name of this Royal Hunting Castle. The castle was designed by architect Laurids de Thurah in 1736 for King Christian VI. Unfortunately the public cannot access this castle.
8. The Eremitage Plain (Eremitagesletten). The grassy fields on the west side of the Eremitagen Hunting lodge are called the Eremitage Plain (Eremitagesletten). These grassy fields have many unusual plants and flowers many of which are quite rare in Denmark.
Deer Garden (Jægersborg Hegn og Dyrehave) - Copenhagen - More Tourist Sites (Part 2)
Deer Garden (Jægersborg Hegn og Dyrehave) - Copenhagen - Main Page
See Also:
Central Copenhagen (København)
Christianshavn (Copenhagen)
LastUpdate: 2015-04-22 10:24:15