Tourist Sites - Deer Garden (Dyrehave) - Copenhagen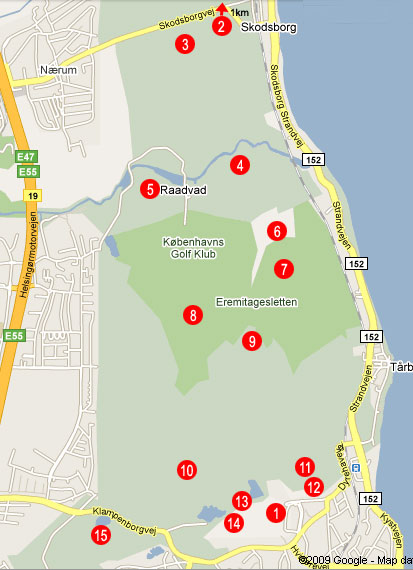 9. The Ancient Monument (Fortidsminde). If you follow the street 'Kristiansholmsvej' you will come across the Ancient Monument (Fortidsminde). The Fortidsminde is a Stone Age grave site.
10. The Wolf Valleys (Ulvedalene). This area is very hilly for Denmark, and this is site of the best toboggan run in the Copenhagen area. On the rare snowy days the area is filled with Copenhageners on toboggans. The Devils Hill (Djævlebakken) is 41 meters high and it is the highest peak in the Park. This area of the park as been untouched for over 600 years old.
11. Von Langen Plantation (Von Langens Plantage). Here you'll find some unusually tall oak and beech trees. The trees were planted in 1764, and today many of them are over 40 meters tall. The place is named after the German J.G. Von Langen who was somewhat of a pioneer in the areas of forestry and environmental maintenance. He came to Denmark in 1763 at the request of the Danish King. He job was to help improve the way Denmark managed their forests.
12. Peter Lieps House (Peter Lieps Hus). Peter Lieps House (Peter Lieps Hus) is the former residence of Johan Peter Liep (1841-1900). Liep was essentially what we would consider today as being a grounds keeper for the park, although his official title was 'rifleman'.
13. Kirsten Pils Spring (Kirsten Pils Kilde). Kirsten Pil discovered the natural water spring in 1583 and it is thus named Kirsten Pils Spring (Kirsten Pils Kilde). The spring water was considered to be very high quality and the reputation of the spring grew form year to year. In fact the spring was believed to have curative properties. Over the years the area developed into a big market place, where people would come to eat and drink while watching the street performers. In 1830 everything was moved to the hill east of the spring which is known today as Dyrehavsbakken.
14. The Bird Song Lake (Fuglesangssøen). This lake is the largest lake in the park. It is named 'The Bird Song Lake (Fuglesangssøen)' with good reason. During the summer time the lake is filled with the sounds of the many singing birds that make this area their home. There is a particularly large nightingale population.
15. Ermelunden (Ermelunden). Ermelunden is where the King's horses and cows use to graze. During fall you can see many different species of birds of prey in this area of the Park.
Deer Garden (Jægersborg Hegn og Dyrehave) - Copenhagen - Tourist Attractions (Part 1)
Deer Garden (Jægersborg Hegn og Dyrehave) - Copenhagen - Main Page
See Also:
Central Copenhagen (København)
Christianshavn (Copenhagen)
LastUpdate: 2019-06-28 21:11:19