Dragor (Dragør) - Copenhagen - Tourist Attractions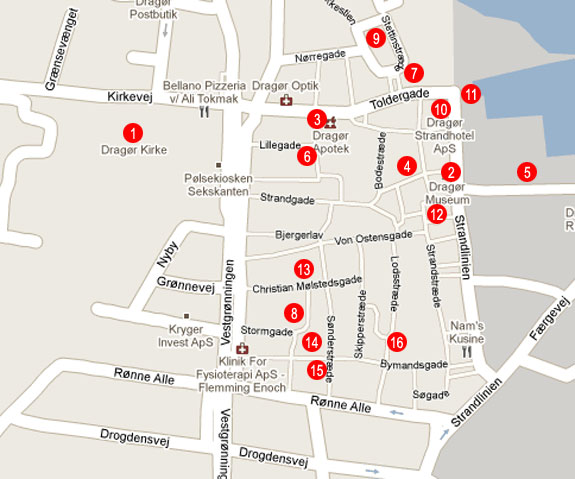 1. Dragor Church (Dragør Kirke). Dragør Church is a fine small town church which was constructed in 1885.
2. Dragor Museum (Dragør Museet). Dragør Museum is dedicated to telling the story of the colourful history of the town. The building was originally built as a storehouse in 1600, and was later used as the town's city hall. The exhibition includes an antiquity collection, ship models, Dutch flagstones and several interesting curious artefacts brought home by the skippers from Dragør over the years. In the harbour lies the ship Elisabeth K571 which is technically part of the museum. During the Second World War the ship saved 600 Jews by sailing them to safety in Sweden. The Museum is open from May 1st to September 30th.
3. The Milestone (Milepælen). The milestone was erected in 1789 and carries King Christian IV's monogram. The milestone says that is 1.5 mile to Copenhagen. The 1.5 mile measurement is from the Old Danish system of measurement where one mile equals 7.532 km. Therefore Copenhagen was approximately 11 km away from Dragør when the stone was erected (the edge of the city, not the city center).
4. Dragor Pub (Dragør Kro). For pub goers the atmospheric Dragør Pub (Dragør Kro) is a must. There has been a pub on this location since 1721, but the present building is from 1805 and it was designed by the architect Johan Hendrich Jørgensen Blichmann. The pub is on the corner of Strandgade and Magstræde and it has door which is a very typical design by Blichmann.
5. Pilot House (Lodshuset). The Pilot House (Lodshuset) is the first Pilot House in Denmark built in 1684. There's a observation tower on the roof of the house.
6. Badstuevælen (Badstuevælen). Badstuevælen is the largest square in the old part of the town. It is not very big, but it is a charming square. The houses number 8 and 12 were built by the architect Johan Hendrich Jørgensen Blichmann in 1790.
7. Jan Timanns Square (Jan Timanns Plads). Jan Thimanns Square was named on the King's supreme authority after the bailiff Jan Pedersen Timann (1683-1749). Timann lived on one of the very first farms in town.
8. Molsted's Museum (Mølsted's Museet). Christian Mølsteds (1862-1930) was a fairly famous Danish painter who primarily painted ships and sea battles. Mølsted's Museum has several of his dramatic paintings on display. Particularly impressive are his paintings of historical battles as seen and painted from Dragør. The museum is open from May 1st until August 31st.
Dragor (Dragør) - Copenhagen - Things to See and Do (Part 2)
Dragor (Dragør) - Copenhagen - Main Page
See Also:
Central Copenhagen (København)
Christianshavn (Copenhagen)
LastUpdate: 2016-08-27 10:48:21