Christianshavn (Copenhagen) - More Tourist Sites: 2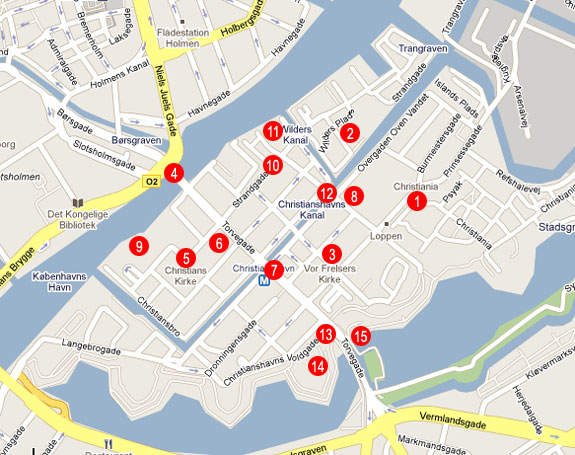 9. Christiansbro . In 2000 Christiansbro underwent some dramatic changes. Several office buildings, homes and the head office of a bank were built on the former lot of B&W. The project was designed by the Danish architect Henning Larsen. Directly across the water is the famous 'Black Diamond' building which is the home of the Royal Library.
10. Beach Street (Strandgade). Beach Street is Christianshavn's old wealthy district, and the street makes for a pleasant walk. Strandgade was the home of many of wealthy merchants, manufacturers, ship owners and ship builders in Christianshavn. The street has some of the most extravagant residential buildings in all of Copenhagen. Several of the residential homes have some very impressive gardens such has House numbers: 12, 24, 28, 36 and 44.
11. Old Dock (Gammel Dok). The Old Dock is the name of an old warehouse which is the home of the Danish Architecture Centre (Dansk Arkitekt Center). The Centre has some permanent exhibits, but it is really best known for the many temporary exhibitions which are put on display. These temporary displays range from Danish and international architectural ideas and achievements from around the world. The building also includes a café and a bookstore.
12. Christianshavns Channel (Christianshavns Kanal). Christianshavns Canal (Christianshavns Kanal) is the main canal on the island. There is a very cosy atmosphere in and around the canal during the summertime. The canal divides the town into what is known as the upper town (over) and the lower town (nedre). This explains the odd street names within the town. Pleasure cruisers and houseboats are to be seen everywhere. There are several tour companies which offer boat tours through the canals.
13. Amagergade (Amagergade). Amagergade is a quite famous street in Denmark. In the early 1970's a very popular Danish TV-series was filmed on this street. The series is called "The House on Christianshavn" (Huset på Christianshavn). Today the street has been totally renovated, and many of the houses have cosy patios.
14. Christianshavn's Mound (Christianshavns Vold). Christianshavn's Mound (Christianshavns Vold) is essentially an enormous earth mound was built in 1680. The mound is the only remaining section of the earthwork which once made up the outer fortifications around the city. The mound once surrounded all of Copenhagen until the majority was dismantled in the mid 19th century. At Christianshavn Vold you can get a sense of the extensive defences which were once an integral part of the survival of the city. The remains of the many windmills which use to stand on the mound can be seen just outside of Skt. Annæ Gade.
15. Accisebod (Accisebod). Accisebod is a very small charming building which exudes character. The building was built in 1721. The building use to be an office for the customs officials.
Christianshavn (Copenhagen): Tourist Attractions (Part 1)
Christianshavn (Copenhagen): Tourist Attractions (Part 2)
See Also:
Central Copenhagen (København) - Main Page
Christianshavn (Copenhagen)
Millstream and its Lakes (Mølleåen og dens Søer) (Copenhagen)
LastUpdate: 2016-10-10 11:36:54