Millstream and its Lakes (Mølleåen og dens Søer) – Activities 2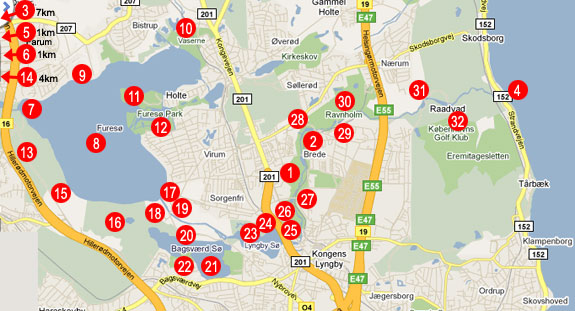 9. High Cliff (Høje Klint). This is a pleasant spot surrounded by huge beech trees with a great view over the lake.
10. Vaserne (Vaserne). Use to be a place for peat cutting, which created the many tiny lakes in the area. Vaserne means road or dam made out of branches, which lead you over a swamp area. This swamp area is a huge breeding place for many different birds. Here you'll find a pavilion, which exhibits the animal and flora life in the area.
11. Næsseslottet Castle (Næsseslottet). This yellow country home is built in 1783 for the grocer Frederic de Conick. There's public access to the surrounding park, which contains several memorials and obelisks.
12. Fure Lake Park (Furesø Park). A variation of beech trees and swamp. Good location for spotting some rare birds in Denmark.
13. Boghvededyssen (Boghvededyssen). In several long barrows rim rock has been scratched with 3-5 cm deep grooves. For some time these scratches were thought to be made by Stone Age Scandinavians, however it has been determined that these grooves in the rim rock is a natural phenomenon, and it can also be found in some areas in the surrounding forests.
14. Grandlose Ore (Grandløse Ore). Is a very peaceful hardwood forest.
15. Norreskov Forest (Nørreskov). Norreskov Forest is one of the few untouched forests in Denmark. An untouched forest in Denmark is a relative term; the trees in the forest were planted after the war against Sweden in 1658-60.
16. Frederiksdal Forrest (Frederiksdal Skov). In this Forest you'll find many so-called signposts (stones with manmade grooves). The stones were very important in earlier centuries, so people could find their way around in this hilly Forest.
Millstream (Copenhagen): Tourist Attractions (Part 1)
Millstream (Copenhagen): Tourist Attractions (Part 2)
Millstream (Copenhagen): Tourist Attractions (Part 3)
Millstream (Copenhagen): Tourist Attractions (Part 4)
See Also:
Central Copenhagen (København) - Main Page
Christianshavn (Copenhagen)
Millstream and its Lakes (Mølleåen og dens Søer) (Copenhagen)
LastUpdate: 2019-06-27 02:27:01